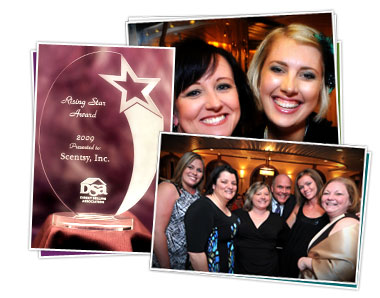 "Scentsy is dedicated to making a difference in every community it serves by going beyond our mission to warm the heart, enliven the senses, and inspire the soul."
The Scentsy Family Foundation was created to offer philanthropic support through a combination of scholarships, charitable cause products, and direct donations toward individual efforts and community-based causes.
Charitable Cause Program
Each spring and fall, the Scentsy Family Foundation selects a charitable cause or organization to support by creating a distinctive new product in its honor.
How are causes chosen? The Independent Consultants who make up the Scentsy family nominate charities they believe in.  Each limited-edition warmer or buddy will be available through your Scentsy Consultant for six months only.
**************************************************
fall / winter 2012
Scentsy's new charitable cause warmer Champion was designed to help the next generation of Special Olympics athletes reach for the stars. Through February 28, 2013, Scentsy will donate $9 (CAD) from the sale of each Champion Warmer to Special Olympics International.
spring / summer 2012
This year Scentsy's new charitable cause warmer Heartfelt is raising funds to help save a life; designed to support the work of the American Heart Association® and the *Heart and Stroke Foundation of Canada™. These nationwide non-profit organizations raise money to fund lifesaving research and to educate people about cardiovascular disease. *VISIT SITE HERE!
Heartfelt's ornate silver medallion floats in a glossy red sea of embossed hearts in Scentsy's newest Charitable Cause Warmer.  To make the most of this contribution opportunity, Heartfelt is priced at $35 (USD)/$42 (CAD).
Scentsy is proud to support the American Heart Association and the Heart and Stroke Foundation of Canada™.
Don't be too busy to protect your heart – see what the experts recommend and make the effort – it's your heart and you only have one!
*****************************************  
FALL / WINTER 2011
"When we selected the Ronald McDonald House Charities for our Charitable Cause Products program, we knew a teddy bear was the only way to go," said Orville Thompson, CEO and co-owner of Scentsy. "Sasha brought out incredible generosity in so many people it amazed us, but one story from Nebraska really caught our attention."
Sasha the Bear Scentsy Cause Buddy
Thank you to all who supported our Fall/Winter Charitable Cause – which raised $322,504 for the Ronald McDonald House Charities® who help improve the health and well-being of children and families in need, all over the world.!
Scentsy's Fall/Winter 2011 catalog introduced Sasha, honoring the children who find a comforting and accepting retreat in the Ronald McDonald Houses here in North America. The plush teddy bear, wearing a hospital smock, had a zippered pouch in its back to hold a Scent Pak which releases fragrance, and 100% of the profits from the sale of these bears went towards this charity fundraiser.
Our local British Columbia "Northern Light's" team also delivered over 80 Sasha Bears, bought by Consultants in our team, to a Ronald MacDonald House here in BC after the Scentsy Spring Sprint in Vancouver, 2012.
        *****************************************   
SPRING / SUMMER 2011

Solving the Puzzle ~ PIECE By PIECE!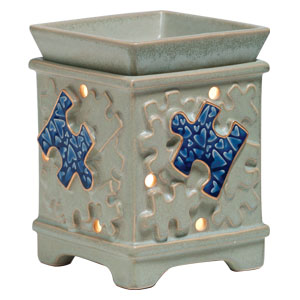 In Spring, 2011, Scentsy created yet another NEW Scentsy Family Foundation Charitable Cause Warmer to benefit the charity "Autism Speaks".
Between March and June 2011, Scentsy raised more than $395,000 through PIECE BY PIECE Cause Warmers  sold; and now…
By the end of September 2011,

Scentsy presented "AUTISM SPEAKS" a $533,880 donation in a ceremony in NYC. CLICK HERE

to see the Video!
Thank-you to all who helped with this Scentsy Fundraiser!